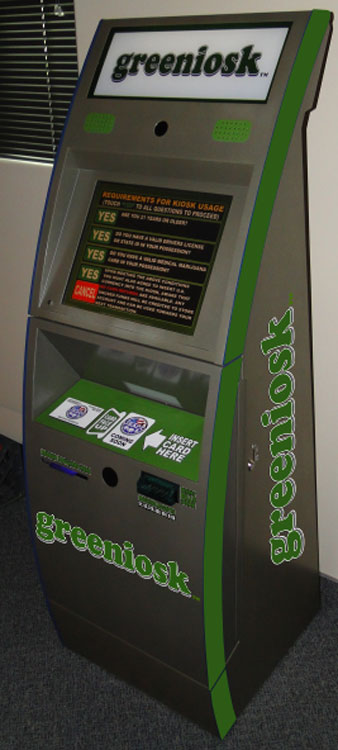 Greeniosks Takes Cash Out of the Equation! – Greeniosks remove the handling of cash by employees thereby removing fraud, theft, and accountability issues with cash.
Cash is Safe with the Greeniosk! – Cash remains in a safely locked kiosk and can only be removed by authorized personnel or secure money transport companies.
Secure and Encrypted Bar Code Vouchers – Greeniosk prints and encrypts a bar code voucher that is redeemed at the dispensary counter to purchase the product.
Detailed and Complete Transaction Records – Greeniosk provides a detailed and complete transaction record of every transaction from "Payment-to-Sale" and "Seed-to-Sale". It keeps an audit trail for the payment but also for the management of the inventory.
Complete and Verifiable Records for Banking Compliance – The Greeniosk System will allow the marijuana business to create complete and verifiable records and documentation needed for banking compliance. The system produces an auditable "Certificate of Payment" for cash/check payments used for tracking payments to all suppliers and producers from dispensaries.
Accepts all Cash Denominations and Credit Cards – Each transaction is processed through a secure safe type kiosk that will accept all types of denominations of currency.
Greeniosk Provides Unique Security – Greeniosks provide a digital image file of each bill inserted into the machine which matches the currency transaction to the client's drivers license and marijuana card.
The Highest and Most Secure Level of Compliance – The Greeniosk system software can be viewable and trackable in real time through "State" accessed website. The system tracks the end-users amounts of purchase to not exceed state limits of more than 8 ounces and will Red-Flag the state's audit system for leakage.
The First "Seeds to Bank" Solution! – Greeniosk takes seeds-to-sale to the next compliance and audit level: Seeds-to-Bank!
See if you qualify to have a Greeniosk at your dispensary. Contact us today!